Winston Frazer, the founder of the 3D printing-focused design and manufacturing company Danae, is no stranger to making big pivots.
When he first started at the Maryland Institute College of Art (MICA), Frazer envisioned himself as a photographer. He instead graduated with a degree in painting. Now, he runs a design house that produces everything from cruise ship parts to art pieces and, now, medical devices. He doesn't paint or do photography as much anymore, but he still considers himself an artist.
"I get to make a new thing every single day. That's a practice. That's art," Frazer told Technical.ly.
Now, his 1100 Wicomico-based company is moving into the medtech world by making medical devices through a partnership with The LaunchPort at City Garage.
In the beginning, Danae was centered around making artistic covers for prosthetic limbs. The company could have been named Danae Prosthetics (and was) but he knew the world of 3D printing was broader than his then-current focus. He's never feared a career change or pivot because the alternative — not following your passions — is akin to death.
"If you're not doing what interests you, you're dead inside. I just knew that I had to do the thing that interests me the most," Frazer said. "That's why there're so many changes: [My interests] changed and I went after them. [Danae] is the one that kind of stuck."
Going from a creative field to STEM is an easier jump than the other way around, from Frazer's perspective.
"It's easier to read a textbook than to know how to be creative," Frazer said. "Creativity is a weapon that can be utilized when paired with traditional thought processes. You're in a better position than other people [without creativity] would be."
Danae currently possesses 3D printers that can do selective laser sintering (SLS), fused deposition modeling (FDM) and stereolithography (SLA). It helps clients decide which option for manufacturing is the best and then makes the desired product based on surface quality, cost per part and geometry.
The company's services rely on not just these printers' combined capabilities, but the knowledge of how to best use them in ways that Frazer said many people won't immediately know.
"You need to know a lot about heat," Frazer said. "You need to know a lot about what that heat's going to do to a specific material. And that's what most people don't know if they're just buying an FDM machine for their house. [SLS and FDM] might work the same as in I'm reading this file and 3D printing it in the same format, but those two [machines] cannot be more different as a technology. To look at a part and know that it's not going to work on an SLS, but it will work on an FDM, is where the higher knowledge comes in."
The company can ship between hundreds and thousands of parts depending on the order. The demand for these quantities actually influenced Frazer's expansion into medical device manufacturing, since he was getting so many requests to make medical parts. The partnership with LaunchPort allows Danae to print to the manufacturing standards of the medical device regulations without having to renovate a space completely.
While we didn't see exactly how these devices get printed, Danae did let us in on the 3D printing process for another project. Below is a brief breakdown and overview of the 3D printing process in gif form:
First is the slicer program, a 3D printing software where all the pre-manufacturing designing is done.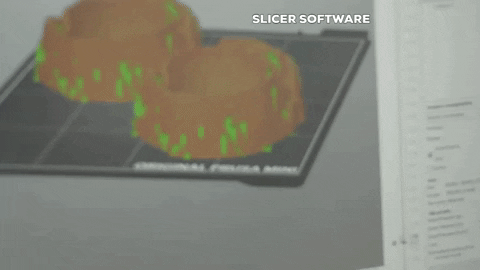 Next, the file is uploaded and it's time to 3D print. Depending on the type of 3D printer and the quantity requested, an order can take between a few hours or a few weeks.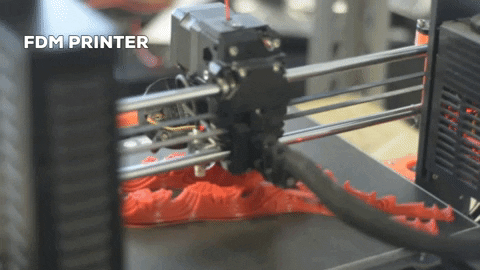 The last part is smoothing out the object, checking for imperfections and making it ready for shipping. The smoothing out isn't always done by hand; There're also blasting machines for 3D printing.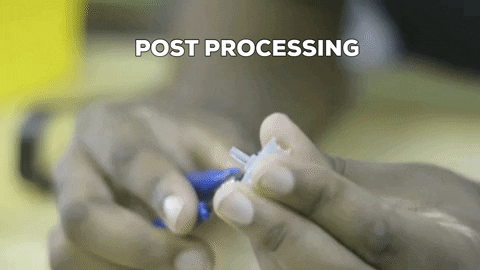 Donte Kirby is a 2020-2022 corps member for Report for America, an initiative of The Groundtruth Project that pairs young journalists with local newsrooms. This position is supported by the Robert W. Deutsch Foundation.